---
---
by
The new book is out! It was published by Falcon Publishing at the end of May 2000.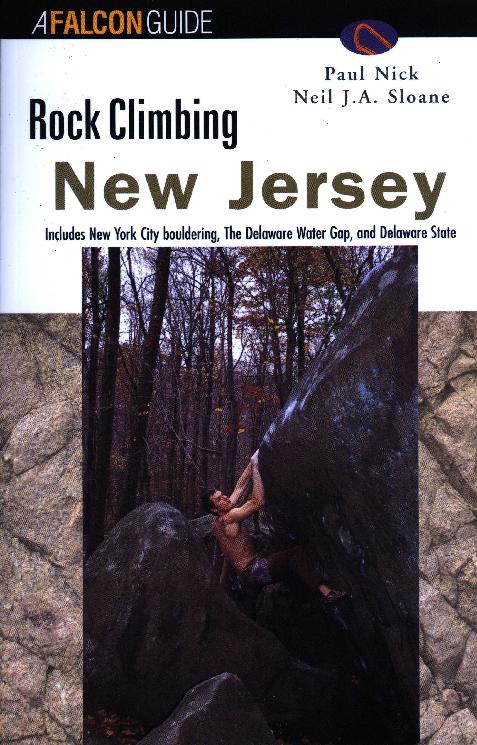 Details:
Rock Climbing New Jersey, by Paul Nick and Neil J. A. Sloane; ISBN: 1-56044-790-7. 270 pages. Cover price: $22.00. Link to Falcon.
Updates, Corrections and Other Comments:
Contacting us.
PN: email pnick2000@earthlink.net
NJAS: email njas@research.att.com, fax 973 360 8178.

Princeton boulders update. The boulders east of Provinceline Road are presently closed. The Access Fund is talking with the owners. The situation on the west side has not changed significantly. Keep a low profile, keep away from the new fence, etc.

We only give a selection of routes at Ralph Stover. For more information see Paul Nick's complete guide to Ralph Stover. A new edition will soon be published by Falcon.

Our 1996 Guide "New Jersey Crags" has information about certain areas (Green Pond in particular) that for legal reasons were omitted from the new guide.

Accidents in North American Mountaineering, Volume 7, Number 5, Issue 53, 2000, page 65, describes one fatality and two other serious rock climbing accidents that occurred at the Delaware Water Gap in the past year. It appears that all three accidents were caused by rocks breaking off.

For those who (like us) often cool off with a swim in the Delaware River after a day at the Water Gap, note that there were seven drownings at that spot in 1999 [New York Times, May 30, 2000].

On page 136 of your book under OTHER NORTHERN NEW JERSEY AREAS you mention Mahlon Dickerson Reservation and a Halden overlook. I think you mean Headley overlook. It is has a great view of Lake Hopatcong. - Comment from Michael Sikorski (mss73@columbia.edu), Jul 21 2002.
Nick Falacci's 1988 Guide, A Climber's Guide to Popular Manhattan Boulder Problems, mentioned on page 140 of our book, can now be found on the web.

Other climbing links can be found on NJAS's links page.
Return to my home page: N. J. A. Sloane